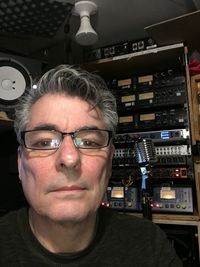 Premium sound in a comfortable setting
John's Garage
 A professional analogue/digital recording studio stuffed into a garage. Put together with the idea that so many have a passion to record and express themselves. "My original idea. was to emulate the sound of those old analog studios of the early 50's and 60's but as things progressed so did the idea of getting the best sounds with a combination of analogue outboard gear and digital interfaces and an wide assortment of plugins. If you want  every new bell and whistle this may not be the place for you but if you want a professional, realistic, slightly larger than life version of your musical ideas, I would like to help achieve that goal. Conveniently located in Chicago's Northwest suburbs: Get quality tracking/recording and mixing in a friendly setting. I also provide restorations of previous recordings.
To help vocalists achieve the best recordings possible I recently added a Lauten Atlantis Microphone.  
To bring the "Place" up to date I also have finally took the plunge.  ---- The Studio is now Mac Studio M2 powered and it seems tat tis new machine is everything it was cracked up to be.
Develop your authentic sound. Let your creativity lead the way in an environment that supports imagination and originality. Track your project here you will have quality tracks for mix down or Mastering. Rates are low and quality is high.
Call or email to schedule time  847-691-2260 johnaspromontemusic@gmail.com
It takes a bit more than equipment to get quality sound but none the less i have listed a bit of the gear we have on hand.
Interfaces
 RME UFX, Behringer Ultra Gain ADA 8200 records 48 simultaneous channels, 
Solid state, tube and transistor Microphone Preamps:
Toft, Focusrite ISA one, Platinum Penta,  Universal Audio Solo 110, Solo 610, Golden Age, ART Pro Channel, DBX,
Ashley EV, ADK, Ashley, Cloud-lifter, Presonus Tube Channel and Eureka and more.
 Drums
5 piece set of  Mapex Acoustic Drums, Zildjian and Paiste Cymbals, accessories    
 Microphones
Electro Voice RE 20 and RE 27 Models, AT kick drum Mic, ADK Area 55, Heil PR40, PR30s,, Sennheiser 609s Sennheiser 421s, Neumann TLM 102, Shure KSM 27s, SM81s SM 57s, SM58s, 55SW, 55, Cascade Vin-Jet Ribbon, Vintage Turner Harp Mic, MXL Ribbon and Dynamic, Apex C12, AKG 421s, AKG 200s, AT4040, , Studio Projects B1, Tube  Microphones  and Preamps, pro-kick,  Vintage Oktava 319, Sterling and much more.
 Guitar Amps and Effects
Fender Peavey, Egnater, Vintage Sound 1962 Fender Bassman, Vintage Sound 22SC, Vox, Ibanez TA30 Amplifier, VTB1, Mesa Boogie V Twin, Epiphone, Rocktron, LR Baggs Para Acoustic, Line6, Fender Ultimate Chorus. Peavey Studio Pro and Classic 30, Fender, BXR M-Audio Keyboard controller. 
Boss, Ibanez, Behringer, Keeley, TC Electronics, Crate,  American Pigtronix, Zoom, Beat Buddy, EchoPlex JoYo and more , 
Out of the box processors include: AB quad Gate, Rane quad gate, Altare compressor Limiter, Art Pro VLA, Pro VLAII, ART Pro Channel, EV 131 EQ, ODEs, Yamaha SPX 90, Digitec SP128, Ashley Crossovers,ART Alesis midi verb, micro-verbs, TPSII preamp tube processors, DBX 266 and 286.  
Full Waves package with Pro Tools, SSL channel strips, RME and Behringer Foreplay headphone system. Crown power Amplifiers,